100% recycling of all waste plastics!
recycle waste into high quality raw materials!
we contribute to an eco-friendly society!
we collect and process waste materials in-house and turn them into products.
Clarification of traceability
We collect and process the waste ourselves, so the traceability is clear and
We ensure sound recycling.
We have been used by companies aiming for SDGs with peace of mind.
R and D
Since its establishment in 1975, the company has focused on material recycling research for more than 45 years and is well versed in recycling methods for many types of plastic raw materials.
In-house product manufacturing
In addition to raw material conversion, we also manufacture and sell our own fuel, recycled pipes and reused pipes.
High price purchase of waste
We purchase waste plastic and rubber at high prices. Please feel free to contact us.
High quality standard
We recycle more than 50 kinds of recycled plastic raw materials.
Our recycled raw materials are mainly supplied by domestic companies with high quality standards.
Reproducibility of customer needs
Melt flow rate, tensile strength, impact resistance, color hardness, can be adjusted to meet your needs.
Impurity removal rate can be adjusted to meet your needs.
Waste disposal business license obtained
We can provide recycled raw materials at low cost because we do not charge for waste disposal.
We also dispose of valuable materials.
cost reduction
We have five primary crushers and change the crusher according to the type of waste plastic.
We also have a storage area of about 1,000 tsubo, and by consolidating and disposing of different types of waste plastic, we are able to reduce the yield rate of cleaning and switching as much as possible.
Pelletizing technology for waste film
We specialize in converting waste film into pellets, and our technology is high and not inferior to other companies.
Rubber Recycling
We collect and recycle waste rubber, change treatment methods according to material, and propose high-quality recycling.
Kaizu Chemical Rubber's Recycling Structure
Domestic recycling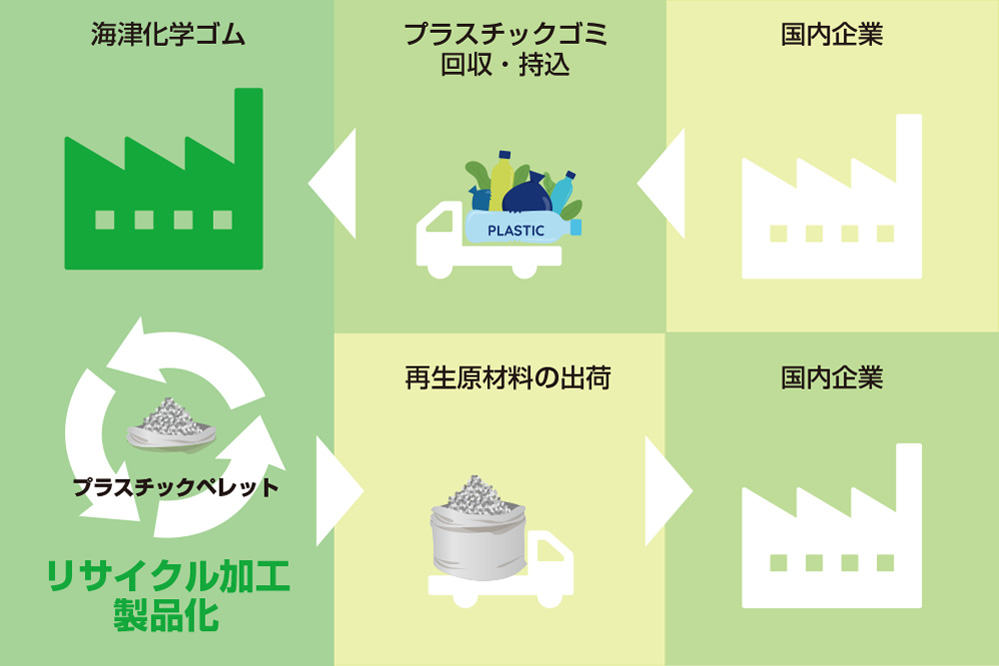 Overseas Export Recycling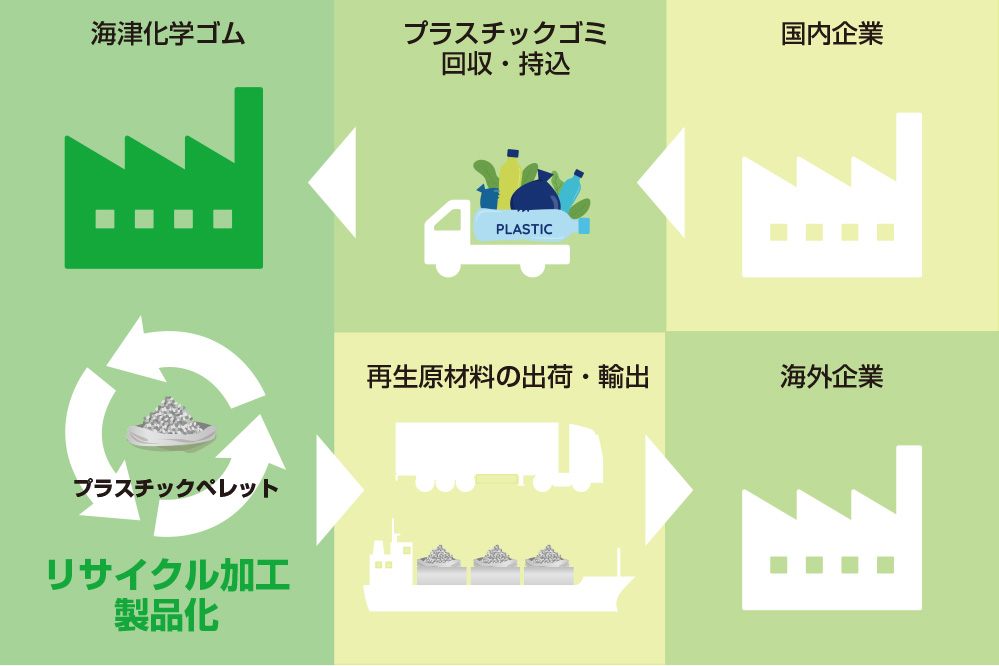 Kaizu Chemical Rubber's Recycling Structure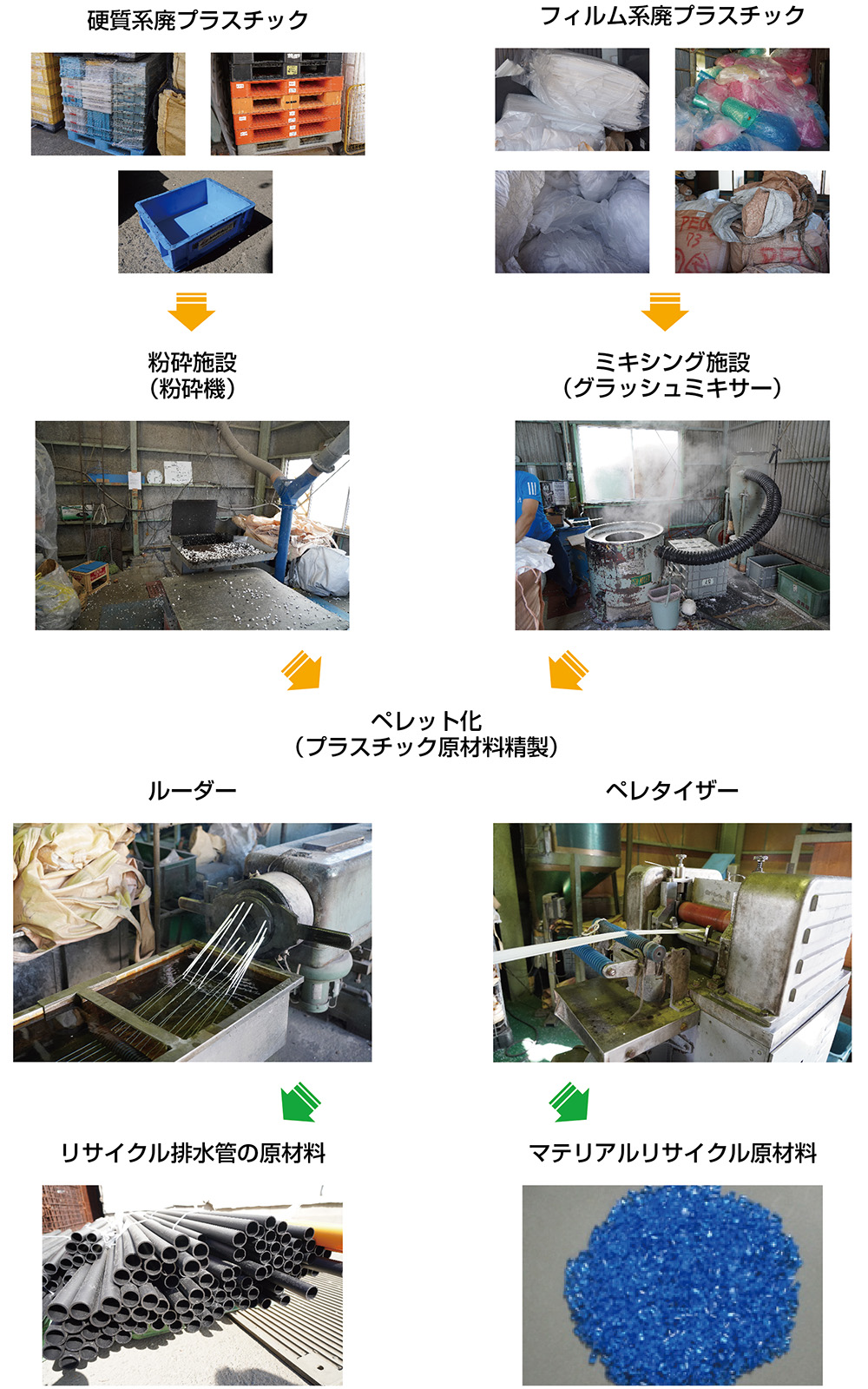 Kaizu Chemical Rubber Co., Ltd. SDGs Declaration
Through our corporate activities, we are working to solve social issues and contribute to
SDGs through our corporate activities.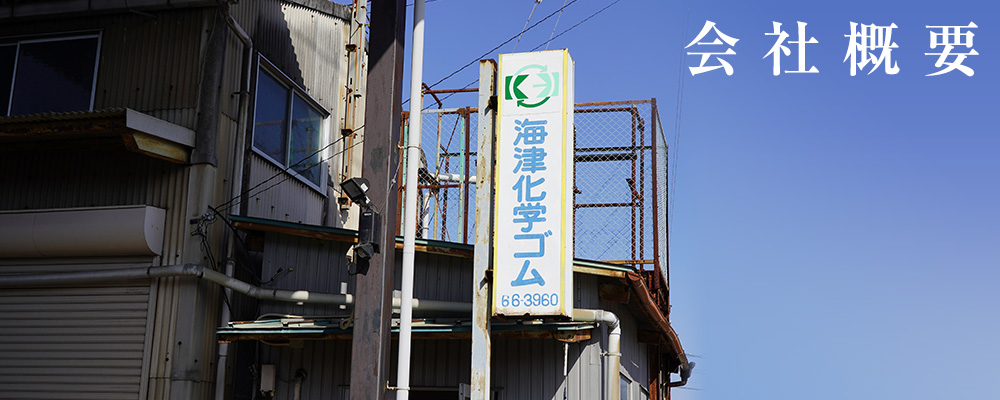 company name
Kaizu Chemical Rubber Co., Ltd.
head office
1280 Nishijima, Hirata-cho, Kaizu City, Gifu Prefecture
telephone number
0584-66-3960
FAX number
0584-66-4505
waste treatment facility
1276-2 Nishijima, Hirata-cho, Kaizu City, Gifu Prefecture
Business
Material recycling of waste plasticsReuse of waste plastics
Manufacture and sale of various types of recycled plastic materials
Manufacture of recycled drainpipes
Manufacture of molded products of recycled rubber chips
Manufacture of industrial rubber products
Industrial waste disposal business
Collection and transportation of industrial waste